Introducing the Domaine
The Estate of The Squadrons has been owned by the Ferran family for three generations.  Founded in 1953 by Jean-Louis Ferran and his sons Daniel and Jean-Pierre, and it is currently run by Gilles, Daniel's son.
The Domain owes its name to the Occitan "escaravey" or Scarabée.  This nickname had been given by the inhabitants of the villages to the Black Penitents of Avignon, owners at the time (from Rasteau Archives in 1623).  The vineyards stretch over 40 ha in Rasteau of stony and steep clay limestone hillsides and 25 ha on the neighbouring lands of Cairanne, Roaix, Villedieu and Saint Roman de Malegarde.
The vines are cultivated in the old-time ways with organic ploughing and fertiliser.
The essential is manual and sorted.  The grapes are then crushed, vinifed and aged in Rasteau's tallest semi-buried winery, located in the heart of the vineyards.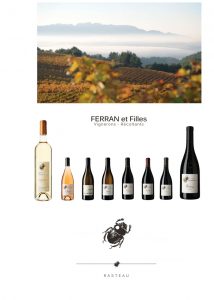 Website: http://www.domaine-escaravailles.com/
Here are a list of their wines: