Hubert Brochard first made a significant contribution to the development of the family estate, devoting their whole life to the work of the vines and the quality and reputation of the wines. Later, their son, Henri and his wife Thérèse joined them and continued to take care of the vineyard. Today, they work with passion and dynamism in respect of the family traditions and using the best of modern techniques. Their vineyard represents 55 hectares spread over the best hills of the Appellation around the villages of Chavignol, Ménétréol Sous Sancerre, Thauvenay, Sainte Gemme and Sancerre.
Daniel Brochard and his brothers are based in the village of Chavignol, a couple of kilometres west of Sancerre, where some of the finest wines (and goat's cheeses) are made. It is just outside Chavignol that Sancerre's most famous vineyard is situated, Les Monts Damnes, and Brochard's top cuvee comes exclusively from this vineyard.
Domaine Brochard is wonderful estate making high-quality Sancerre in various guises depending on the soils of origin. The clay-limestone soils which cover most of the region give rise to the classic "Les Collines Blanches" and "Aujourd'hui comme Autrefois" cuvees whilst the silex soils produce the "Silex" cuvee which has a flinty edge rather than the more mineral, tradional style.
The Brochard brothers also have some vineyards just outside the appellation where they produce Sauvignon Blanc but in a more "new world" style. It's great value too with copious tropical flavours and aromas. Don't overlook the rose wines of Sancerre either, they're really good food partners especially in the warmer months.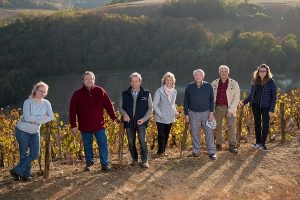 Hubert Brochard Team
Website: www.hubert-brochard.fr/en/
Here are a list of their wines: