Since 1822 and over five generations, the winemakers of our House have founded a real heritage.  13 hectares spread over the best terroirs of Champagne: Coteaux Sud d'Epernay, Cóte des Blancs, Vallée de la Marne and Sézannais, including 9 classified villages.
Applying the Champagne production method, our vineyard carries the traditional grape varieties of Chardonnay (50%), Pinot Noir (10%) and Pinot Meunier (40%).
Champagne Bauget-Jouette is vinified in Épernay, the capital of Champagne, in our cellars, it then rests at a constant temperature (11 degrees C) in our cellars dug in the 18th century, 27 meters deep in the chalk.
Each of our vines with its terroir and its history, has formed a character, an identity of its own.  'Le Bignart', 'Le Cloítre' or 'les Grimpets' are part of the 37 plots acquired by our family over 5 generations of winegrowers and which today contribute to the harmony and complexity of the blend of our wines.  Day after day, in each season we observe precisely the evolution of this living heritage located in the heart of Champagne on the 'Coteaux Sud' of Epernay, the 'Cóte des Blancs, the 'Vallée de la Marne' and the 'Sézannais'.  So for each harvest, we make sure that each of the grapes from our vines can express their full potential to produce the best Champagne.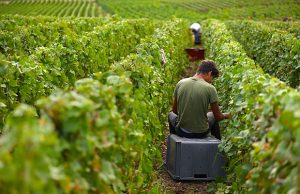 Website: www.bauget-jouette.fr
Here are a list of their wines: