We are James and Joanna King.  Both Scottish by descent, we have been living at  magical Chateau Unang since 2003.
James is the winemaker at this unique domaine surrounded by oak forests, above the Nesque river bed overlooking the Vaucluse plateau.  Completely hidden from view, and sheltered from the mistral, it is a beautiful corner of Provence. Joanna helps with the marketing both in the very good local restaurants and at wine shows both in France and abroad. Dominique is in charge in the office, and Mohammed continues to care for the vines as he has for the last 40 years.
At Chateau Unang we aim to produce the best wine possible from this unique terroir.  We are in the appellation of  Ventoux which is finally starting to receive some of the respect it now merits.  We are proud to be one of the most renown and admired wine producers amongst a group of fine independent winemakers that are slowly making their mark in the Rhone Valley.
We aim to keep the yields low and make the vines work to produce the best grapes possible. We have Grenache, Syrah, Cinsault, Carignan in red grapes  rousanne, clairette and Grenache blanc in the white grapes.
white grapes are all grown in the valley at the bottom of the hill, where they benefit from the cooler early morning air, and staying shaded longer in the heat of summer  giving our white wines the delicious fresh minerality with a lively acidity for which they are known
The red grapes are spread over the rest of the hill between 250 and 320 metres above sea level, divided by thick swathes of oak forest and groves of olives and cherry trees with an aspect south east.  The Grenache Pins at the very top and forming the basis for our top cuvée La Croix.  The Syrah secretaire, that has to be protected from hungry wild boar in the last few weeks before picking forming the basis for la Source.
Organic

The white wines have been certified organic since 2012 and the reds since 2013.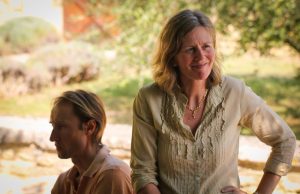 Website: https://www.chateau-unang.com
Here are a list of their wines: