Linked to the history of Pouilly-Fuissé white wine
5 generations of Sève are intimately linked to Pouilly-Fuissé white wine.
Pierre-Marie Sève, born in 1875, first worked as a "gagé" in Pouilly where he was introduced to the work of the vine and the elaboration of Pouilly-Fuissé white wine. In 1920, he was finally able to buy and plant his first vines. Thus begins the history and advent of the Pouilly-Fuissé Sève.
His son, Francis Sève, born in 1905, operated and expanded the estate in 1927, marrying Marie-Antonine Ramage, owner of Pouilly-Fuissé vineyards. The young spouses settled in the house of the in-laws in Solutré, seat of the current estate.
Their son, Roger Sève, born in 1928, takes over the operation of the 2 estates Sève and Ramage, with his wife Simone. He renewed many plots, enlarged the estate by one hectare and began marketing the bottled pouilly-Fuissé Sève white wine.
Their son, Jean-Pierre Sève,bornin 1959, took over the farm in 1981. This was followed by an important development of the work of the vine by mechanization and the marketing in bottles. Pouilly-Fuissé white wine is booming for export. Global marketing gives rise to awards – medals, good ratings, comments in specialized magazines, etc.
Antoine and Mathilde Sève,their children, born in 1987 and 1990 respectively, joined the family business in 2018. After choosing careers far from viticulture, the desire to return to the sources is the strongest. The call of the Pouilly-Fuissé convinced them to change course. Supported and guided by their parents and grandparents, their mission is to offer conscientious viticulture, respectful of the environment, to perfect and continuously improve the quality of Domaine Sève's Pouilly-Fuissé and Mâcon-Solutré white wines, thus honoring the fifth generation and family know-how.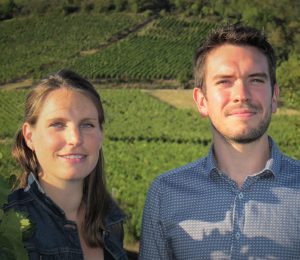 Antoine and Mathilde Seve
Website: www.domaineseve.com
Here are a list of their wines: