Las Condes
Santa Carolina was founded in 1922 in Santiago, and is one of the oldest wine producers in Chile. The founder of the Vineyard, Don Lorenzo Reus, brought the expertise of how to make wine from the old Central region of Mallorca (Spain) to the fertile Chilean Central Valley.
The installations of the Viña Santa Carolina are located in the heart of Santiago and Curico (Central Valley). Between both locations they have a combined capacity of 9 million liters. The company has been able, through the years, to develop the most prominent strains of wine, such as Merlot, Carmenère, Cabernet Sauvignon and Sauvignon Blanc.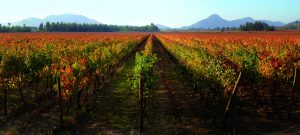 Santa Carolina Vineyards.
Website: www.santacarolina.cl
Here are a list of their wines: