Established in 1638 by Christiano Kopke and his son, Nicolau Kopke, who came to Portugal as representatives of the Hanseatic League, the House of Kopke is the eldest Porto wine export firm.
Through many generations, the Company was run by several representatives of the Kopke family, obtaining an excellent reputation for its wines. Some of its members were deeply involved with the Oporto trade, mainly in the 19th century, when Joaquim Kopke, entitled 'Barão de Massarelos', took part in most economic activities. Meanwhile the Company was sold to the Bohane family by the end of the 19th century, who tried to run it from London where they had most of their economic interests. The distance and the two World Wars disabled the control of the Company and they decided, then, to sell it.
In 1953 and after some negotiations, the Barros family, whose leader was then Manuel Barros, bought the House of Kopke and since then it belongs to its Group. In fact, Manuel Barros was connected with the export and commercialisation of Port Wines since his youth. After becoming a partner of Barros, Almeida & Cª, he bought other firms such as: Hutcheson, Feuerheerd, and Feist, all of them old Port Wine exporters.
Manuel Barros and his sons, João and Manuel, ran the company until the middle of the seventies, trying to increase even further the image of its wines and developing an important agricultural unity in the Douro District. Its centre is 'Quinta S. Luiz' where a great work of modernization is being made, together with the development of new vineyards planting the best varieties known. In June 2006, the Sogevinus Group extends its influence throughout the Port Wine sector through the acquisition of C. N. Kopke. Nowadays Kopke is the oldest Porto Wine brand and assumes the leadership in the 'Porto Colheita' category.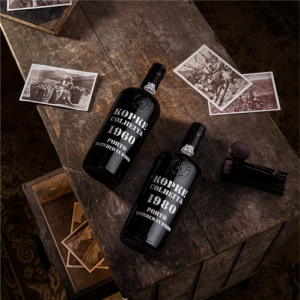 Website: sogevinus.com
Here are a list of their wines: